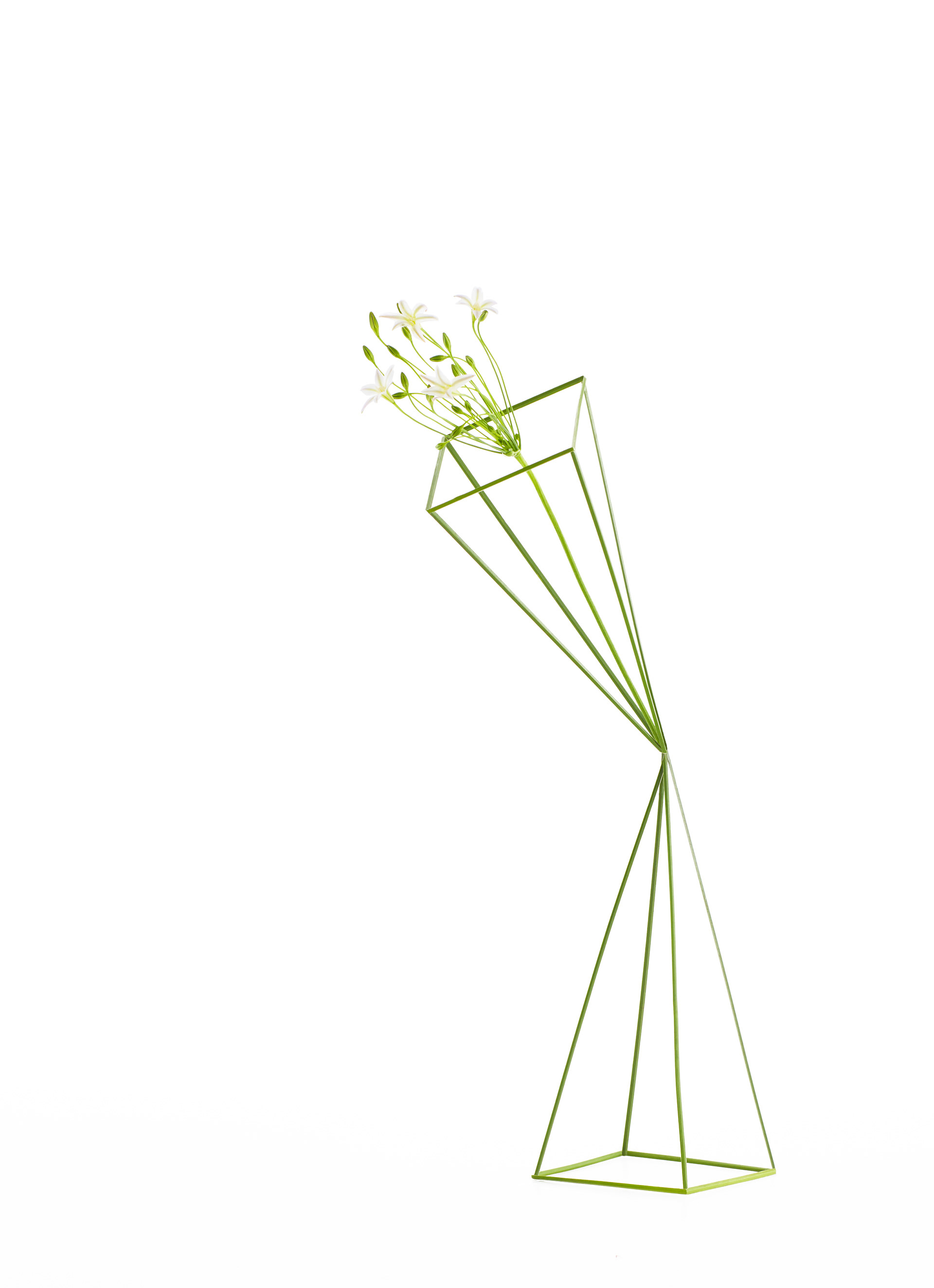 Haribana – Self-created Ikebana in Soft Architecture Approach
Source: Lianhe Zaobao 
Date of Publication: 17 January 2021, 3:30am
An architect by training, Harijanto gave up the trade and switched to a new profession in floral design. By blending architectural concepts into floral art, he created a style so unique, he took it to the world.
The pandemic has allowed some of us to rediscover our long-lost passion, with some making a diagonal career switch. And for Harijanto, it was a serendipitous best of both worlds: after he rediscovered his long-lost passion, he transformed his floral designs and scaled new territories.
Winner of the President's Design Award - Designer of the Year 2013, Harijanto remains to-date the only floral designer with this national accolade. Typically conferred on graphic designers, multimedia design directors and architects, Harijanto is both distinctive and uniquely distinguishable. Interestingly, Harijanto's designs origin from architecture. Having been in the floral art business full-time for 18 years, during the circuit breaker period, he was faced with material shortage and had to do away with flamboyant designs of the past.  From a stalk of flower and a leaf, he rediscovered his initial passion. The same architectural concepts that spurred his early-day designs were given a new spin, to create 30 pieces of floral arrangements in a Haribana style that would awe one with the same magnificence as would the architectural designs.
Born in Indonesia, Harijanto, now 48, obtained his Bachelor degree in Architecture in Parahyangan Catholic University, Bandung, Indonesia, in his younger days. He went on to pursue a Master's degree in Real Estate in Sydney, Australia. In 1996, having just graduated, he came to work in Singapore, where he eventually lived for over 20 years.  He started out with the former Singapore Public Works Department (PWD, now known as Singapore CPG Corporation Pte Ltd), where he worked as a Technical Associate in the Changi Airport Development department. He was responsible for the supervision of Terminals 1 and 2 expansion, selecting carpets and designing washrooms for the interiors. He also provided engineering consultation for small countries overseas looking to construct airports with Changi Airport Group. He was with PWD for seven years, and it was in the sixth year that he started developing an interest, or perhaps more aptly, reignited his passion for floral art. As a child, he would wake up early in the morning with his mother, who loved growing flowers, to tend to the garden in their Central Java home. He knew the names to every single floral species in the garden. When in primary school, he would show off his floral arrangement skills during art lessons.
Apprenticeship that led to Quantum Leap


Harijanto says, "During the six years in Singapore, I chanced upon an advertisement about a floral art competition organised by the Floral Designers Society Singapore. With absolutely no formal training and just self-confidence mustered out of nowhere, I registered for it without a second thought.  The outcome was, out of 32 finalists, I got the penultimate position. Yet, the media chose my work to be published on the papers. That gave me the confidence to explore the brand-new territory of floral art. It also made me realise that a successful floral art piece needs to be bright in order to stand out in a sea of flowers.
"I started to work really hard to catch up, and trained in Perth, Australia under a German Master Florist. Thereafter, she recommended me to train under another German and a New Zealand floral art masters. In the month-long intensive devilish training, I have had to learn even casket wreath design. After my first week training under this German master, she forced me to conduct an open floral arrangement demonstration at the Perth public library. I had to complete two floral arrangements under extreme time limits, and I bit the bullet. But this really forced me through a quantum leap in a very short period of time."
One year after his return to Singapore, in 2003, Harijanto resigned to set up his very own floral art company, committing full-time ever since. When the pandemic broke out last year, which was his 18th year in the business, it posed a challenge which compelled him to adapt and adjust. He says, "It was difficult to import all kinds of flowers during the first few months. All along then, my style was one of flamboyance with rich flower clusters, and I was used to having many types of flowers in a single arrangement. With the choices of flowers drastically reduced, I was forced to create with the least amount of resources I could find. I have also had to think of how to educate customers about using the least amount of floral pieces to decorate the various corners of their homes, about how they could cheer up everyone at home in critical times like this." As he contemplated, what had nourished him for more than a decade in his younger days came to mind, the concept of architectural design – which is to imagine with no limits, but interpret within reality - and there he was enlightened and found a way out. 
Incorporating the Fundamentals of Architecture


Harijanto says, "I would incorporate the most fundamental concepts of architecture, including structure, balance, shape, frame, texture, depth of field, rhythm and harmony into the floral design of current times. Among the 30 floral arrangements, 24 of them each expounds a fundamental of architectural design, while the other six were more complex with various architectural fundamentals integrated."
Over the years whenever I interviewed Harijanto and each time as I admired his works, I would nurse a wish in my heart that he could integrate architecture and floral design into one, to reveal the tough-as-steel spirit in floral tenderness.  After the pandemic challenge, he did it.  Made of steel grass, the frames were stacked and staggered over, to resemble a long, drawn corridor, with the flower representing a swallow flying through. The prismatic bottle structure is likened to a huge column, as the violet flower sits atop in unyielding grace.  Inspired by the decorative tiles in Moroccan architecture, he created a floral cage in steel grass, basking in it is a little pink flower.  To be able to incorporate architectural concepts into floral art, as if the two are destined for each other, rather than forced upon, is indeed uncommon.
Even with limited materials, strict selection is critical to Harijanto's designs. He would typically use only one stalk of flower and one type of grass: "Steel grass are like the steel bars and cement in architecture, these can rise up to the sky in vertical lines, or be bent to form a frame, an oval-shaped or a semi-circle structure. You can also repeat, stagger or stack them to create a sense of architectural rhythm and depth of field. On the flowers, I would only go for Clematis in various colours. It may look soft and tender, but it can last up to a week.  Besides the steel grass that could last for a month, I would also use typha. The green elements featured in my current series of floral arrangement form the core structure of architecture. While flowers are a focal point of the architecture, it is used minimally, just one stalk will do. It is like a pane of stained-glass window or a beautiful sun deck, one that gives the finishing touch, like the final brush stroke to a painting, a dash of coloured paint, to instantly lift the look of the "entire architecture". I love flowers that exude an unyielding spirit beneath a gentle demeanour. In contrast with the tough and strong steel grass body, it is much like a ray of light cast upon the surface of a skyscraper."
Taking in the Essence of Japanese Ikebana


As Harijanto points out, his current series takes inspiration from the zen feel and minimalistic style found in Japanese ikebana. He says, "I allow my floral art to return to the basics. My works in the past used to be luxurious, but it is totally reversed this time. I design based on subtraction, removing the excess elements one by one, and when nothing more can be removed and the creation still looks beautiful, the work is deemed complete. What I wish to showcase ultimately is that, while rich floral clusters naturally make us happy, when resources and affordability are both limited, people can also enjoy the beauty of a stalk of flower and a leaf. This reflects the true spirit and positive energy of the pandemic.
During the circuit breaker period, Harijanto started floral arrangement classes online. He was often invited by the Ikebana International Singapore chapter to conduct lessons to its members via online video platforms. Interestingly, one of the Ikebana associations in Singapore claimed to be the most free-spirited does not recognize his designs. Failing to obtain a certificate from this association, he is not able to conduct public demonstrations in the name of modern ikebana. Thus, Harijanto decided to name after himself, his invention that is ikebana-inspired and blended with architecture, calling it "Haribana". He plans to publish a book and devise a simple curriculum that could be taught to floral arrangement lovers around the world. To such a blessing in disguise, he laughed, "Having named after myself, I will officially take this innovation as one that is totally my creation. If there is a sincere learner, I shall impart a creative spirit that is not bound by external elements, but liberal and free.
If the soul of architecture could be given a new lease of life with a stalk of flower and a leaf, then it has to be Haribana. Harijanto intends to send this series of work to Belgium to compete at the International Floral Art 2021 competition. At the same competition in 2010, where he created costumes, handbags, lollipops and fashion accessories with flowers, he won the Silver Leaf Award. Regarding the breakthrough this time, he said, "This is my most powerful piece of creation to-date."